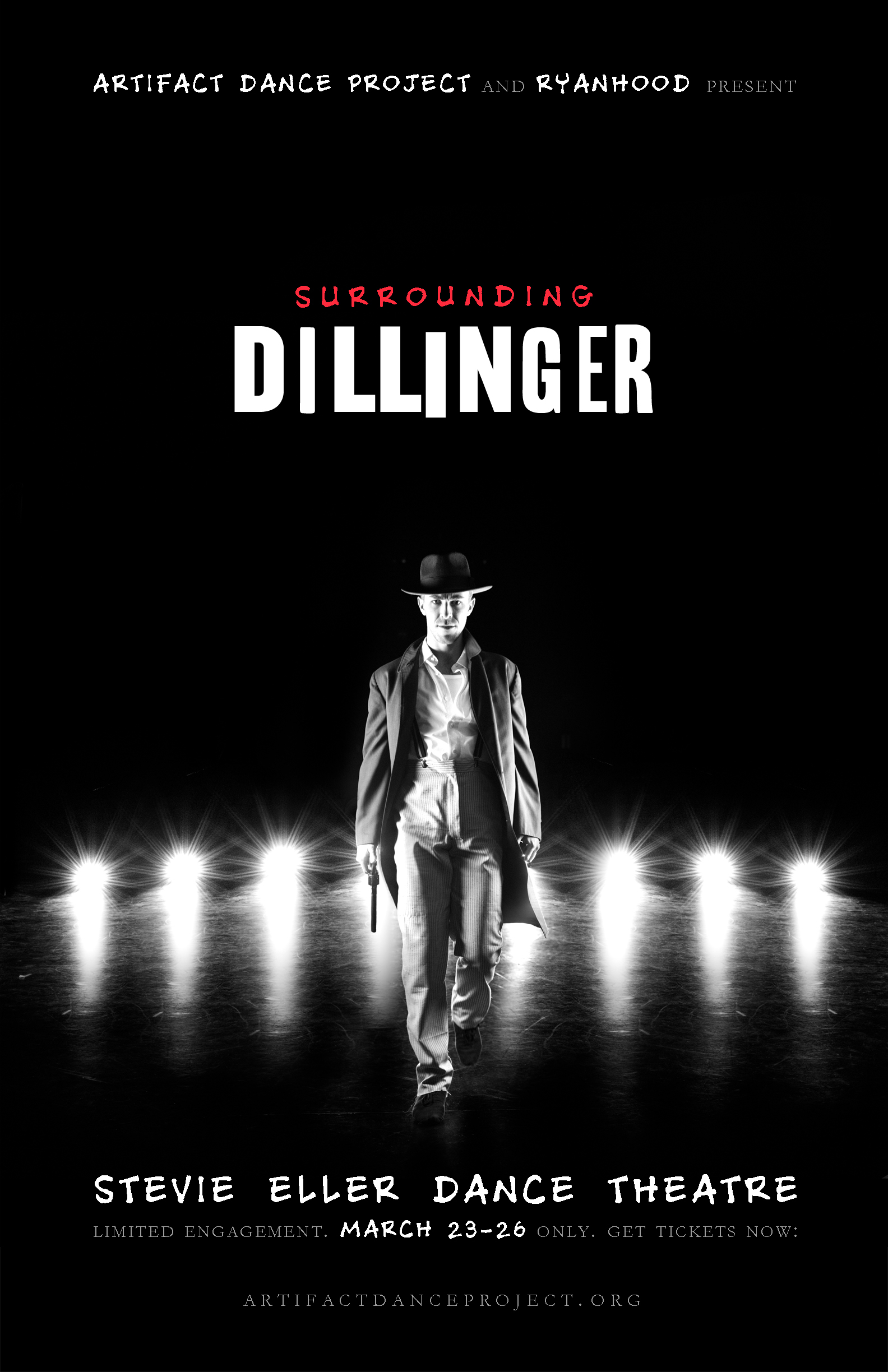 We're excited to announce our very first venture into the world of modern dance and live theatre with a brand new production called, "Surrounding Dillinger." The show is a modern story ballet choreographed and danced by Tucson's premiere collaborative dance company, Artifact Dance Project, with Ryanhood performing original music live onstage throughout the show. Here's the story: 
Hardened by a decade-long prison sentence for a minor offense, a newly-released John Dillinger assembles a likable but deadly gang of criminals to help him steal back the life he lost in a dazzling series of depression-era bank robberies. But with the newly-formed FBI hot on his trail and the shadows of his past closing in around him, Dillinger must make the ultimate getaway or lose everything, and everyone, he has come to love the most. In collaboration with musical folk-duo Ryanhood, Artifact Dance Project brings the story of Tucson's favorite gangster into stark creative focus live on stage with "Surrounding Dillinger," playing March 23 - March 26 at the Stevie Eller Dance Theatre.
Since this is a completely different type of show than we've done before, we'll explain how it's going to work. Without any spoken dialogue, Artifact will portray the events and relationships surrounding John Dillinger's storied bank robbing career through dance, gesture, and movement, while we will "narrate" the inner worlds of the characters through our lyrics and songs. The show is made up of about half pre-existing Ryanhood songs including "Welcome You Into My Head," "Second City," "Mature," and of course, "Dillinger Days." And to create the rest of the show we wrote a series of variations around the show's torch song, "I Only Want The Same Things," reinvented a long-lost song called "Heart on Holiday", and borrowed several songs from some of our favorite local artists including Carlos Arzate & The Kind Souls, Sweet Ghosts, and Ryan's solo project, The Great Collision. 

Cameron co-wrote the show with Artifact's lead choreographer/artistic director Ashley Bowman, and the pair are also co-directing. Ryan is on board as musical director, and the show will run for four consecutive live performances at UA's Stevie Eller Dance Theatre March 23-26. Tickets are available at www.artifactdanceproject.org